FMIT Alert Level 3:
Moderate
TD9 Still Disorganized, But Projected to Organize and Strengthen As It Turns North/Northeast & Increases in Forward Speed. Increase in Maximum Sustained Winds Forecast to Occur Throughout the Day with TD Designation Expected Today. NOAA Setting Tropical Storm Warnings and Limited Hurricane Watches For Areas of Northern Florida From Panama City to Tampa. Prepare for Storm Surge, Heavy Rains and Tropical Storm-Force Winds in Western and Central Florida Over the Next 24-48 Hrs.
9:30am EST, Wednesday, August 31, 2016
Latest from the National Hurricane Center:
"The depression is moving toward the north near 2 mph (4 km/h). A north-northeastward motion at a faster forward speed is expected to begin later today, and a turn toward the northeast is forecast tonight. On the forecast track, the center of the tropical cyclone will approach the northwest Florida coast in the warning area on Thursday afternoon."
Latest From FMIT:
FMIT Ride-Out teams are pre-positioning assets just outside of projected path and will re-direct as the storm approaches FL to maximize support capabilities. FMIT is initiating its Property Claims CAT Team procedures in Orlando.  Should the storm develop significantly, we will arrange pre-event webinars and calls to educate Members on FMIT's mitigation and response procedures.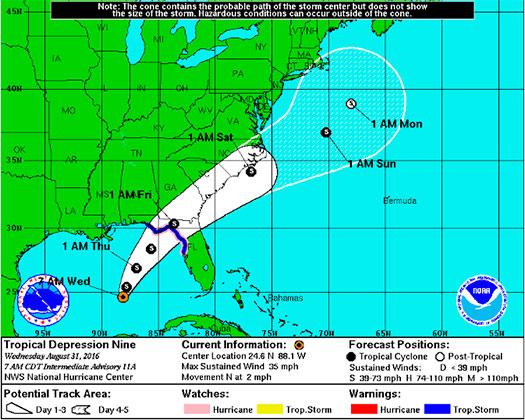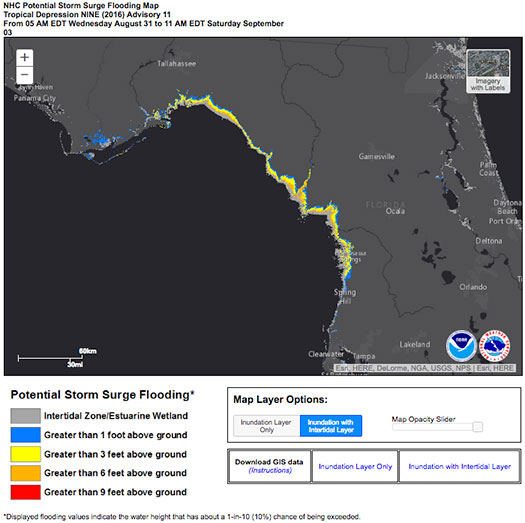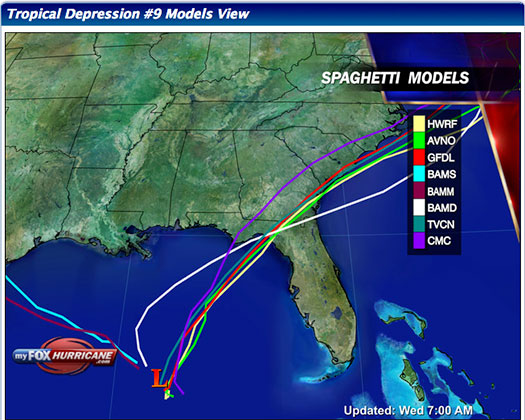 FMIT Discussion
Tropical Depression 9 is expected to strengthen and pick up speed as it begins turning North/Northeast with the possibility of becoming a Tropical Storm by later today.

A hurricane watch and tropical storm warning have been issued by the NOAA for Florida's Gulf Coast including the Big Bend and Panhandle.

Wind speeds remain at 35 mph and are expected to grow to 50 mph by later tonight and up to 65 mph this week

Heavy amounts of rainfall are currently affecting portions of FL (St. Petersburg) prior to the storm, so additional rains from TD9/TS Hermine (5"-8") will make flooding in very likely due to additional rain in already flooded/saturated areas. Some areas may see as much as 15″ of isolated downpours over the next 24-48 hrs.

Areas of Coastal FL subject to potential storm surge flooding due to winds pushing sea water toward the coast. Estimates are from 1' to 6' or more in some low lying areas.

The FMIT Claims Team in Orlando is currently preparing for potential landfall. The 3pm Alert will include more information about the FMIT's Response Procedures.
Still to Watch:
99L is projected to make a turn to the Northeast today with the possibility of becoming a tropical storm by this afternoon. It is projected to increase in intensity and make landfall by tomorrow. Winds remain at to 35 mph and are projected to continue to increase as convection around the low is forecast to increase as the week goes on. Areas of North Central, Big Bend, and the Panhandle should maintain a watchful eye on the storm as the week progresses.
FMIT Member Preparedness Actions
FMIT Ride-Out teams are mobilizing to areas for initial deployment as necessary to assist Members with the response and recovery process. FMIT's Property Insurance Policy affords many benefits to its members.

Members should continue to monitor the storm as well as FMIT Alerts and local/national weather forecasts.

Members throughout the western coast of FL should begin preparations for potential landfall later this week, which may include communications with internal emergency response leadership.