FMIT Alert Level 2:
Low-Moderate
TD9 Expected to Strengthen & Turn Northwest Later Today, Possibly Becoming a Tropical Storm By Tonight. Lopsided System Forecast to Bring Up To 65 MPH Winds, Some Storm Surge & Heavy Rains From Panhandle Down to Central Areas of FL.
3:00pm EST, Tuesday, August 30, 2016
Latest from the National Hurricane Center:
"The depression is moving toward the west-northwest near 7 mph (11 km/h). A turn toward the northwest is expected later today, followed by a turn toward the north-northwest tonight. A turn toward the north-northeast is expected on Wednesday. On the forecast track, the center of the depression will continue to move slowly away from western Cuba, and move over the eastern Gulf of Mexico during the next 48 hours."
FMIT Ride-Out teams will remain on standby throughout the the week as the path and strength of the tropical depression become more clear. Future alerts will be sent twice daily due to the storm's projected path into FL later this week.
Should the storm develop significantly, we will arrange pre-event webinars and calls to educate Members on FMIT's mitigation and response procedures.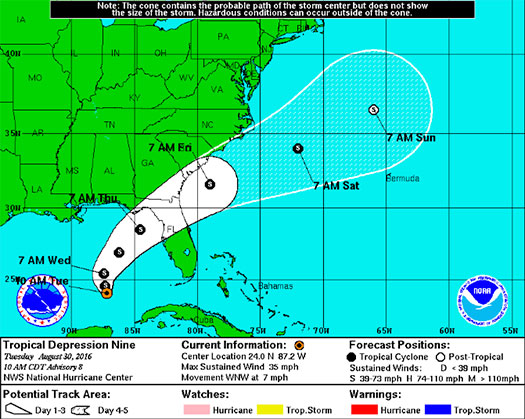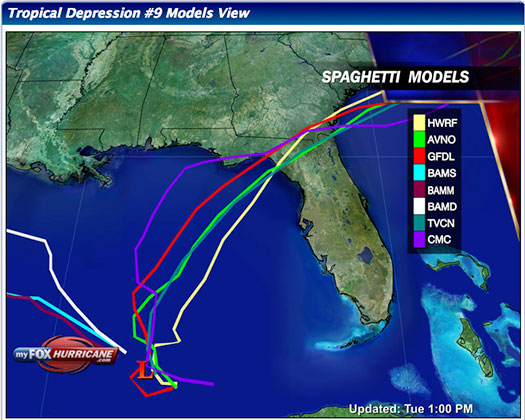 FMIT Discussion
Tropical Depression 9 is expected to turn & strengthen into a Tropical Storm by later today or tonight.

Wind speeds remain at 35mph and are expected to grow to 65mph by later this week.

Heavy amounts of rainfall are in the forecast for later this week with the possibility of flooding across parts of the state, some areas may see as much as 15″.

Areas of Coastal FL subject to potential storm surge due to winds pushing sea water toward the coast.

Most models show the system affecting areas of Florida towards the end of the week.
Still to Watch:
99L is projected to make a turn to the Northwest later today and then turn Northeast tomorrow. It is projected to increase in intensity slightly over the next couple of days. Winds remain at to 35 mph and are projected to continue to increase as convection around the low is forecast to increase as the week goes on. Areas of North Central, Big Bend, and the Panhandle should maintain a watchful eye on the storm as the week progresses.
FMIT Member Preparedness Actions
FMIT Ride-Out teams are making plans to identify areas for initial deployment as necessary to assist Member with the response and recovery process. FMIT's Property Insurance Policy affords many benefits to its members.

Members should continue to monitor the storm as well as FMIT Alerts and local/national weather forecasts.

Members throughout the western coast of FL should begin preparations for potential landfall later this week, which may include communications with internal emergency response leadership.