Our Services
Emergency services and recovery programs are only as good as the people charged with the responsibility to respond and engage. It's that commitment that NDS professionals make to our clients as their trusted Resource, Advocate & Partner.
NDS provides comprehensive 24/7 emergency response and recovery services through a combination of self-performance capabilities and our certified national Mitigation Vendor Program (MVP). Currently, NDS holds general contracting licenses and multi-disciplined trade certifications in 32 states.
Recovery Program Management

NDS has a successful track record of responding to and managing complex projects at various sites involving multiple funding sources, contracts and subcontractors. NDS project managers work with our clients to identify and manage all phases of restoration through reconstruction.

Emergency Service
& Support

NDS provides 24/7 emergency response and support services critical to meeting the demanding needs and expectations of our clients. In time of loss and business resumption, NDS professionals are Your Resource, Your Advocate & Your Partner.
 

Fire Damage
& Deodorization

When your property or business is damaged by Fire, NDS specializes in fire and smoke damage restoration as necessary to protect your structure and contents from further secondary damage and help you recover in a cost effective manner.

 

Water Damage
& Moisture Control

From water extraction, flood clean-up and dehumidification, NDS will identify affected areas of your property to ensure successful timely mitigation and prevent environmental concerns down the road.
 

Mold & Environmental
Remediation

When faced with an environmental threat, trust NDS's certified remediation technicians to properly address the potential impact and overall scope-of-work necessary to safeguard your property and people.

 

Repair &
Reconstruction

NDS is a general contractor holding licenses and trade certification in 32 states. Our construction and project management team is well versed in specialized commercial/industrial properties as well as multi-family structures.
 

Catastrophe (CAT)
Response

In the event of a large-scale single occurrence or wide spread natural disaster, NDS Ride Out Teams and NDS CERT (Catastrophe Emergency Response Team) are there when you need us the most. NDS has the proven capacity and resources to respond both domestically and abroad.

 

Consulting
Services

Disasters go on around us each and every day often times with little or no warnings. While not all disasters or unplanned events can be prevented…having a Plan-of-Action can make the difference. Ask NDS Consulting for sustainable solutions to help protect your organization.
Current Events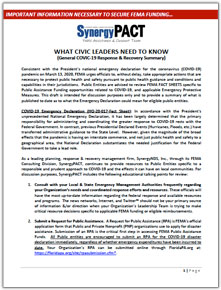 What civic leaders need to know regarding COVID-19 Response & Recovery.
What People Are Saying...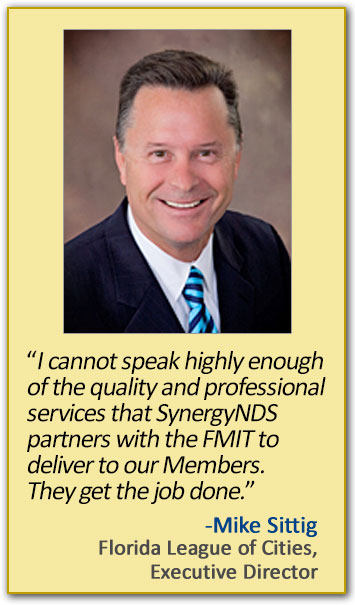 SynergyNDS Recent
Facebook Posts