FMIT Alert Level 2:
Low-Moderate
Matthew Remains a Powerful CAT 4 Hurricane With Maximum Sustained Winds of 140mph. Forecasts Continue To Show Matthew Maintaining Its Intensity Over The Coming Days With Little To No Strengthening Expected. Matthew Has Slowly Started to Make a West-Northwestern Turn Over The Last Few Hours and is Projected to Eventually Turn North Over The Next 24 Hours. Still Some Potential to Impact Florida Next Week. Latest Models Project Matthew Heading Slightly More To The East Which Could Decrease The Effects of The Hurricane On Florida.
12:30pm EST, Sunday, October 2, 2016
Latest from the National Hurricane Center:
"At 1100 AM EDT (1500 UTC), the center of Hurricane Matthew was located near latitude 14.0 North, longitude 74.6 West. Matthew is drifting toward the west near 3 mph (6 km/h). A turn toward the northwest is expected later today, followed by a turn toward the north tonight. On the forecast track, the center of Matthew will approach southwestern Haiti and Jamaica on Monday."
Latest From FMIT:
FMIT continues to monitor Hurricane Matthew as it slowly starts to make a West-Northwest turn early today and then North over the next 24 hours. Hurricane-force winds spread outward up to 35 miles (55km) from the middle and tropical-storm-force winds spread outward up to 205 miles (335 km). The approximated lowest central pressure based on figures from the aircraft is 947 mb (27.96 inches).
The overall organization of Matthew has changed little overnight but is forecasted to maintain Its intensity as it continues to turn slowly towards the North-Northwest. Further strengthening is not expected and a decrease in intensity is likely once the storm makes landfall in Jamaica and Eastern Cuba. Currently, path models continue to mostly predict that it will narrowly pass Florida to the East sometime later next week. We will continue to send updates throughout the week as the Hurricane progresses.
Additional information and imagery can be found on your simpliCity℠ Dashboard.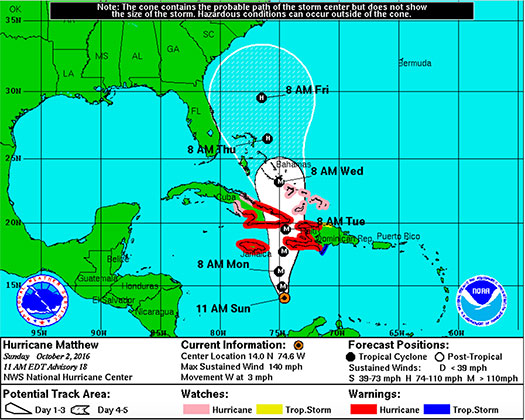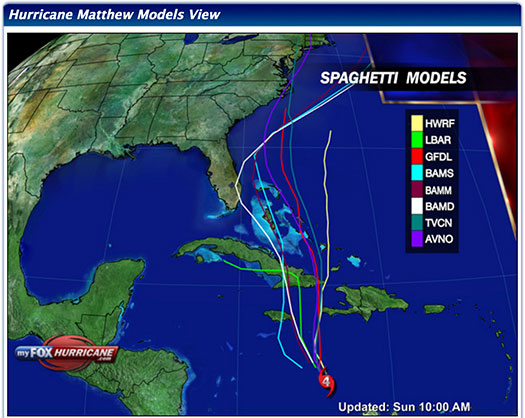 FMIT Discussion
Matthew remains a powerful CAT 4 Hurricane with maximum sustained winds of 140mph and is expected to maintain intensity.

The eye of Matthew has shrunk slightly and has started to become obscured on visible satellite images, which can be seen as a sign of weakening in the Hurricane.

The vertical shear is not projected to become much stronger while Matthew continues to move through the Caribbean, so the Hurricane should remain near CAT 4 intensity for the next 24-48 hours. As Matthew progresses further into the Atlantic, some increase in shear along with a slight decrease in oceanic temperature should result in minor weakening.

Further weakening and disruption in the structure of Matthew is likely once the Hurricane makes landfall in Jamaica and Eastern Cuba.

West-Northwest forward movement has begun over the last few hours with speed slowing to around 3mph with projections to begin turning North later today into tonight.

Multiple factors including the distance the Hurricane travels West before turning North, how sharp the turn will be, movement speed and the strength of the Hurricane will ultimately determine Matthew's future impact on Florida.

Still some potential to impact Florida next week. Latest models project Matthew heading slightly more to the East which could decrease the effects of the Hurricane on Florida next week.

We will continue to send updates throughout the week as the Hurricane progresses.
FMIT Member Preparedness Actions
Members should continue to monitor the storm as well as FMIT Alerts and local/national weather forecasts.

Members should also be in contact with their internal emergency management teams as the Hurricane progresses throughout the weekend should any procedures need to be implemented next week.