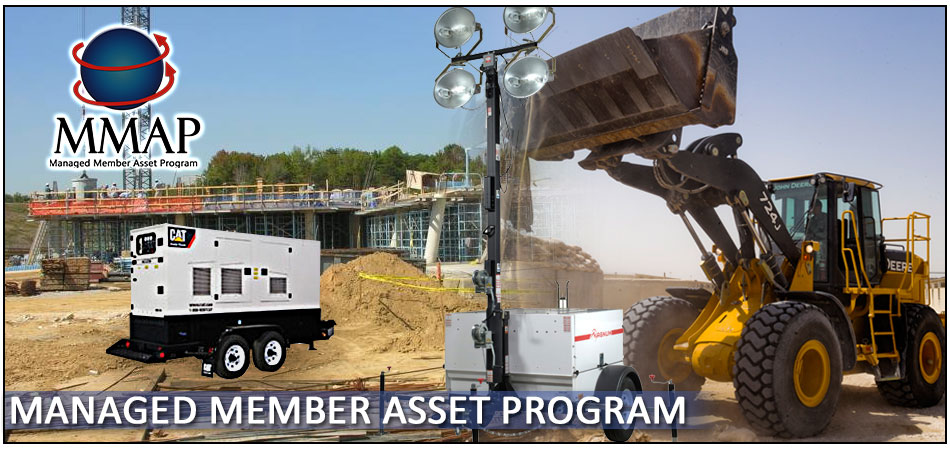 In times when equipment is in short supply, MMAP℠ (Managed Member Asset Program) provides an opportunity for FMIT Members' to realize a return on fixed assets (equipment) by contributing to the on-demand insurance rental program in response to damaged property. Accessed and inventoried through the TrackDown℠ database, participating Members are paid market rates direct from insurance for equipment rentals on eligible FMIT scheduled property claims.
In the aftermath of Hurricane Katrina, SynergyNDS created MMAP℠ for our Members who took us to task to create a more self-sufficient program which would allow public entities to do a better job of leveraging available assets/equipment outside of the more traditional Mutual Aid Programs. In doing so, SynergyNDS also provided municipalities the ability to better support and help private entities recover that are key to their local economy. MMAP℠ has become a dynamic example of a proactive private-public partnership supporting one another in time of need.
MMAP℠ is utilized for both approved property claims and complies with eligible insurance and FEMA Cat B procurement guidelines. All procurement, setup and fulfillment activities are managed by SynergyNDS as a two-tiered program bringing together inventory from both the public and private sector. MMAP℠ expedites the mobilization and setup of requested assets and equipment – saving time, money and unnecessary frustrations. Available for isolated events or wide scale natural disasters, MMAP℠ serves the diverse needs of FMIT Members.
MMAPSM
Frequently Asked Questions
MMAPSM
Features & Benefits

Rapid Mobilization of Equipment & Supplies on Insured Claims
FMIT Pays MMAP℠ Rental Direct to Members
No Direct Cost to the FMIT User
Preapproved FMIT Procedures & Pricing
Supports FEMA Force Account Equipment Needs
Real-Time Tracking of MMAP℠ Asset
Streamlines Reporting & Documentation