Hermine Strengthens Into CAT 1 Hurricane With Winds Around Center Increasing to 75mph. Further Strengthening is Anticipated by the Time Landfall Occurs This Evening In/Around Big Bend/Eastern Panhandle. Disorganized Nature of Storm Still Has Wide Range of Path Guidance. Members in Projected Path Should Be Finalizing Emergency Response Procedures and Seeking Safe Shelter. Prepare for CAT 1 Hurricane with Storm Surge, Heavy Rains and Hurricane-Force Winds and Isolated Tornadoes Over the Next 12-24 Hrs.
3:30pm EST, Thursday, September 1, 2016
Latest from the National Hurricane Center:
"Hermine is moving toward the north-northeast near 14 mph (22 km/h), and thismotion with a slight increase in forward speed is expected during the next day or so. On the forecast track, the center of Hermine will be near the Florida coast in the hurricane warning area tonight or early Friday."
Latest From FMIT:
FMIT Ride-Out teams and CIRT Vendors are pre-positioning assets and Gateways in Suwannee County. FMIT is initiating its Property Claims CAT Team procedures in Orlando.  Additional Alerts will arrive after Landfall this evening with response & recovery information.
Additional information and imagery can be found on your simpliCity℠ Dashboard (Imagery Not Updated to Reflect Hurricane Hermine as of Alert Submission).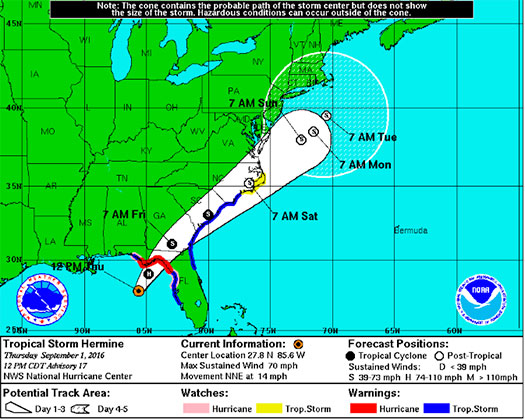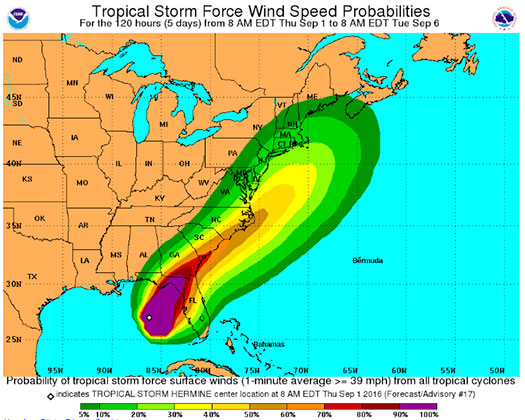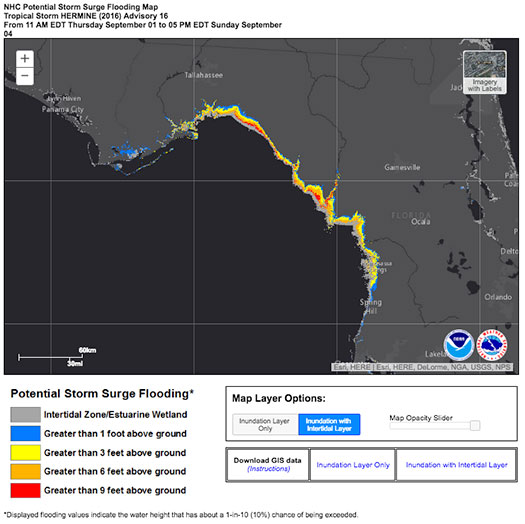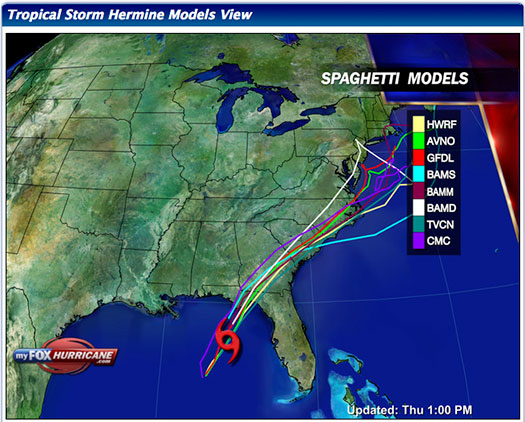 FMIT Discussion
Hermine has strengthened into a CAT 1 Hurricane as of this afternoon with winds currently at 75mph.

The Hurricane's pressure is lowering which typically means increasing intensity and organization.

Forward movement speed remains at 14mph.

Landfall is expected this evening between Eastern Panhandle & Big Bend (Franklin, Wakulla, Taylor, Lafayette, Dixie Counties), possibly as a CAT 1 Hurricane.

Coastal Evacuations ordered for Taylor, Wakulla and other Counties in Big Bend & Panhandle.

The storm will be lopsided with most storm surge, heavy winds and rain in Eastern side of storm.

A hurricane warning has been issued by NHC for Florida's Gulf Coast including the Big Bend and Panhandle. Tropical Storm Watches down to Tarpon Springs.

Hermine also carries high potential for the development of isolated tornadoes primarily along the eastern side of the storm as it moves over the peninsula.

Areas of Coastal FL subject to potential storm surge flooding due to winds pushing sea water toward the coast. Estimates are from 4' to 7' or more in some low lying areas.

The FMIT Claims Team in Orlando is currently preparing for potential landfall in Big Bend Area & getting Adjusting Team prepared for rapid damage assessments.

FMIT/Synergy making phone calls to Members throughout the day to ensure contact information is up-to-date and Members have any additional questions answered.

TrackDown Damage Assessment login information will be sent to Members in the potential affected area for documenting losses to fixed property.
Still to Watch:
Hurricane Hermine is projected to increase in intensity before it makes landfall this evening. Winds have increased to 75 mph and are projected to continue to increase as convection around the low is forecast to increase as the day moves on. Areas of North Central, Big Bend, and the Panhandle should maintain a watchful eye on the storm throughout tonight into tomorrow.
FMIT Member Preparedness Actions
Ride Out teams are being moved from South Central Gulf Coast of FL up to Big Bend, Panhandle and Tallahassee areas to assist Members with the response and recovery process.

FMIT's Property Insurance Policy affords many benefits to its members.

Members should continue to monitor the storm as well as FMIT Alerts and local/national weather forecasts.

Members throughout the western coast of FL already be implementing preparedness procedures for potential landfall later tonight, which may include communications with internal emergency response leadership.

Complete any mitigation procedures prior to the storm's arrival as safe to do so.


If not completed already, move or disassemble mobile or other assets susceptible to wind damage. These include: Portable & Fixed Shade Structures, Canopies, Awnings, Mobile Trash Cans, Umbrellas, Flag Poles, Tables/Benches Not Affixed to the Ground, Soccer Goals, etc…


Finalize the installation of any preventive instruments used to protect assets from high winds & heavy rain, such as Hurricane Shutters over windows.


Complete necessary preventive maintenance and vegetation removal from drains and ensure proper operation and maintenance of lift station and pump stations to minimize the influx of debris into the water and sewer management systems.


If utilizing the FMIT Turnkey Recovery program, please review any contracts you currently have with companies that provide emergency response products & services and contact them to notify them that they will be required to perform work under the coordination of the FMIT Turnkey Recovery program to ensure all losses and associated costs are properly managed and submitted through your insurer and FEMA for proper potential reimbursement.


Review Critical Assets that would be most susceptible to damage from an impending hurricane while being critical to municipal operations. Be prepared to share this list and potential mitigation procedures with Synergy/FMIT in advance of the storm. Critical Assets generally include Water Treatment Plant Assets, Critical Community Facilities, etc…


Ensure that any coastal assets close to the ocean (lifeguard stands, park equipment, etc…) have been moved away from potential storm surge levels.